Instructor Development Course Ibiza - lo siento de momento no realizamos cursos de instructores
The most amazing experience of your life will be the PADI Instructor Development Course!
Exhilarating, tough at times, incredibly FUN, rewarding and your ticket to the world.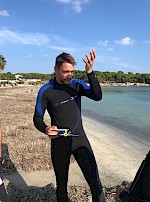 Being a Scuba Diving Instructor you will ultimately be responsable for peoples lives, so expect us to be tough on you throughout the course! (We are very nice people though ;-) )
Working with your fellow students (who will become your lifelong friends and worldwide network), you will be taught the basics of educational theory, build upon your Divemaster knowledge and skills, learn to use assistants effectively and become a master of the PADI system. Following and teaching theory presentations, pool workshops and teaching in Open Water will be your daily tasks, getting feedback and improving every day.
Doing your 12 day full time IDC at Divestar Ibiza, a paradise location where theory is taught under palm trees, diving directly from the beach, gives you the most effective use of your time possible and puts you 'in the vibe' from day one. This is what being a dive Instructor is all about! Benefitting from real life examples and years of experience from our IDC Team, really improves your learning process. At the end of your IDC you will not only be ready and competent for your PADI Instructor Examination, but more importantly, a confident and competent PADI Instructor ready to take on the world.
To be able to start the IDC with us, you will need to be a Divemaster or higher in active teaching status with an EFR certification in date. A recent medical certificate is necessary, but can be provided by our diving center physician for a small fee on site. The price for our PADI Instructor Development Course is 2227€ which includes the following:
- IDC course
- IDC course materials
- EFR Instructor course
- EFR Instructor course materials
- EFR Instructor PADI fee
- All air fillings and dives, boat or beach where needed
Excluded:
- PADI fees for the course or Exams (appr. 800€)
Optional:
- Accomodation
- Dinner
- Instructor Specialties
If you are motivated to become the best scuba Instructor you can be, we will guarantee your IDC with us will be a life changing experience, topped off with the world's most valued diving Instructor certification!
Please feel free to give us a call or pay us a visit to see if we are a match for you